Our Shine On Special Achievement Rotary Award
Stand Up For Mental Health Australia Program
In Australia we are sponsored by WISE Employment, an organization that helps job seekers find meaningful employment and employers to find the right workers. They do a lot of great work helping people with mental heath issues find work.
WISE found out about SMH and David's being a mental health speaker through this piece on Australian broadcaster SBS's show Dateline. SBS sent internationally acclaimed video journalist David Brill to do a piece on SMH where he came to Vancouver and then followed David to Albuquerque and Portland where he was doing shows with groups he'd trained there. (David does the training via Skype then flies in at the end to do a show with the comics.)
Matt Lambelle, General Manager, Strategy and Alliance at WISE got in touch with David and the rest is history!
We have comics in both Sydney and Melbourne who are available to do shows that can help your organization raise awareness around mental health in a  fun and education way!
Click here to book the comics for a show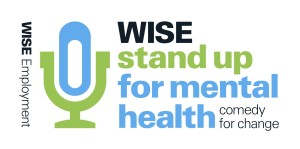 The WISE Stand Up for Mental Health show at Shell Refinery for Movember was a fantastic success. We had over 100 people attend and to see them laughing and enthralled in the show was brilliant. Reducing the stigma associated around mental health is such an important issue. I think this was driven home to all when nearly the whole room raised their hands to say they know someone with a mental illness. It is an issue that reaches far and wide in our society and we should all be doing something about it. The comics put a human face to those living with mental illness in a funny, intelligent and articulate manner which touched many in the room. The discussions I heard post the event suggest that the topic certainly hit a nerve with many of our employees. I have had nothing but glowing reports about the show and I think it will be the talk of the refinery for some time to come. Thank you to all of you for making the show such a great success.
Rebecca Heywood, Health, Safety, Security and Environment Advisor, UGL, Shell, Australia
A big thank you to staff and most especially the stand-up comedians who graced Ozanam House during social inclusion week. The feedback from our residents who attended was overwhelmingly positive. Please pass-on my sincere gratitude and appreciation for adding a special touch to Social Inclusion Week!
Maria Keon, Community Development Worker, Ozanam House, Melbourne, Australia